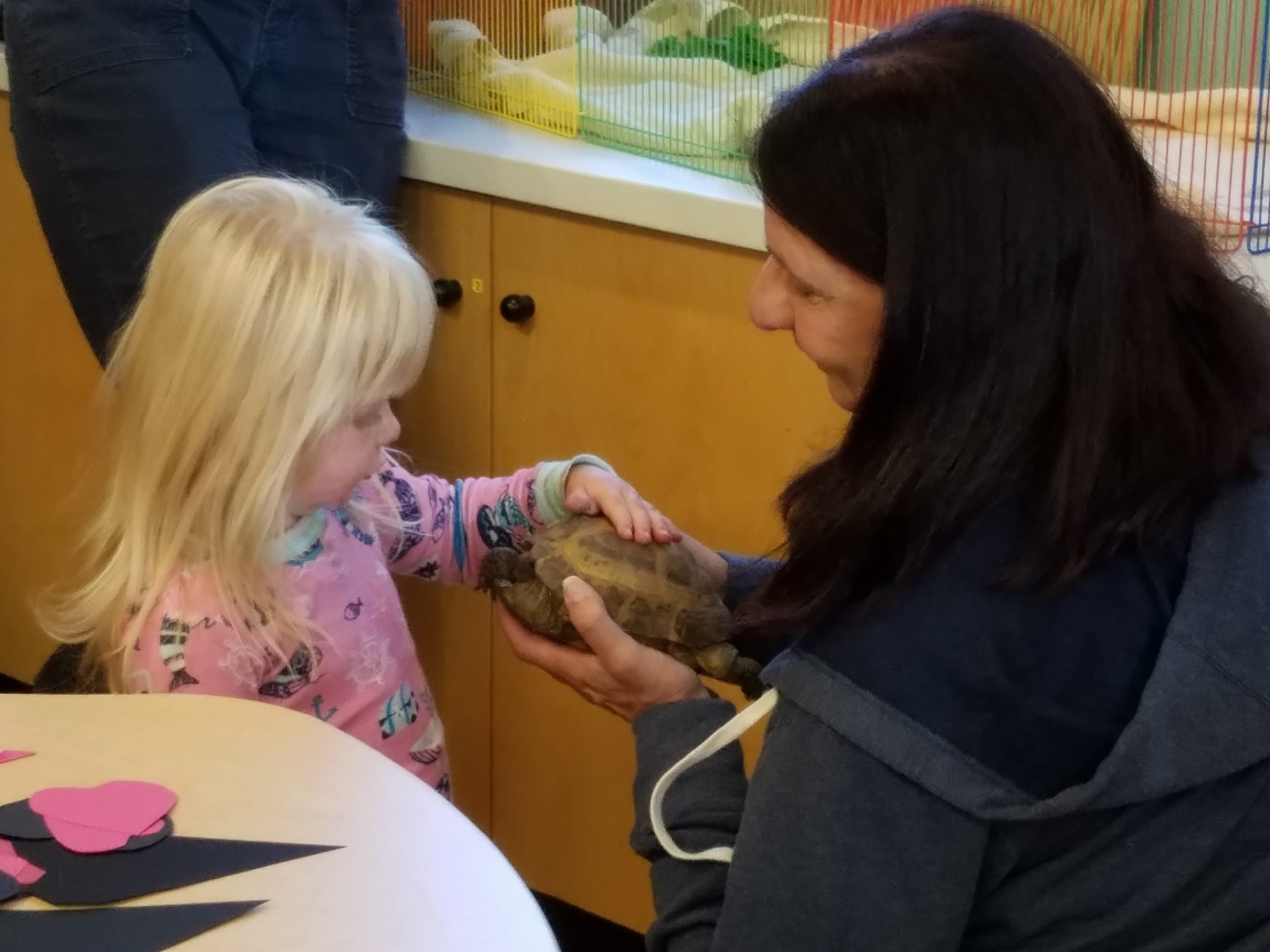 Humane Education Team
Pope Memorial Humane Society-Cocheco Valley is proud to offer Humane Education programs at no cost to our community.  We offer a variety of programs for people of all ages to educate them on the care, safety, and overall well-being of animals.
This program usually involves traveling to area schools to give presentations to children of various ages, as well as leading tours at PMHS-CV for groups of children who want to learn about the functions of a humane society. Although a majority of the work we do is with children, we do offer humane education programs for groups of any age. Previous presentations, for example, include high school animal behavior classes and retirement communities.  During the COVID-19 pandemic, we have been reaching out to the community primarily with video presentations, including animal-themed Storytimes and educational presentations like Reading Dog Body Language.
We encourage anyone who has experience with public speaking, or who enjoys  spending time with children, to apply for this program and help reach children at as young an age as possible to spread the word about the importance of being kind to animals. Extensive training for this program is required including shadowing other humane education presenters and gradually learning to lead a program alone. Therapy dogs are also welcome to take part in this program so children may learn hands-on how to properly greet a dog.
VOLUNTEER REQUIREMENTS for Humane Education Team
Our humane education program has grown enough in the past few years to require the help of more humane educators.  The Humane Education Team is currently looking for volunteers to become involved with our current video programming.  We're also seeking volunteers and certified therapy dogs to help with future in-person presentations at local venues.  Video presentations have some flexibility in scheduling, and in-person presentations typically take place on weekdays between 7am and 3pm, though night and weekend opportunities are sometimes available. Humane Education volunteers must be at least 16 years old.
If you are interested in joining the Humane Education Team, please apply to volunteer and we'll schedule a time for you to meet with our Humane Education Coordinator after you've been through the orientation process.
Existing volunteers log in here:
Are you ready to begin your commitment to volunteer with PMHS-CV? Click 

HERE

to fill out a volunteer application!