What do you think of when you hear the word "Halloween"?
Candy? Pumpkins? Haunted houses?
For many of us, the first thing we think of is COSTUMES! Halloween is the one time of year when you're allowed, even encouraged, to dress up, no matter your age. But why should humans get to have all the fun? In the spirit of spooky season, we've gathered a few of this year's the best costumes for your four-legged companions.
Dog Costumes
---
Lion
There's nothing easier than a one-piece costume, and your dog will look adorable dressed up as the king of the cats! All you need is a lion's mane and a little cooperation from your pet to achieve this look.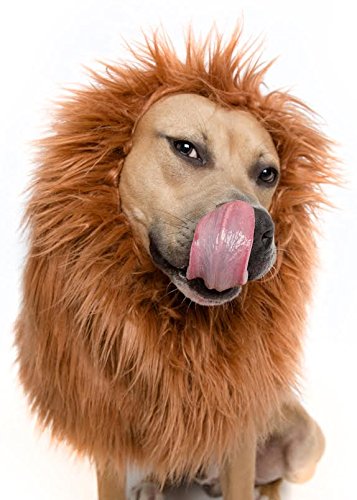 Rodeo Dog
This costume is hysterical! A rodeo rider hanging on for dear life as your dog does zoomies around the house will have you in tears, and it's another easy costume! You can usually find this style in multiple sizes or adjustable, so it should fit all sized dogs. You can even try it on your cat!
Hot Dog
A true classic! What's better than a dog dressed as a hot dog? Or better yet, a hot dog dressed as a hot dog? Dog-ception!
Cat Costumes
---
Sushi Roll
We know our feline friends love fish, and surely you've caught them eyeing your sushi takeout from time to time. Why not let them dress up as the snack they daydream about?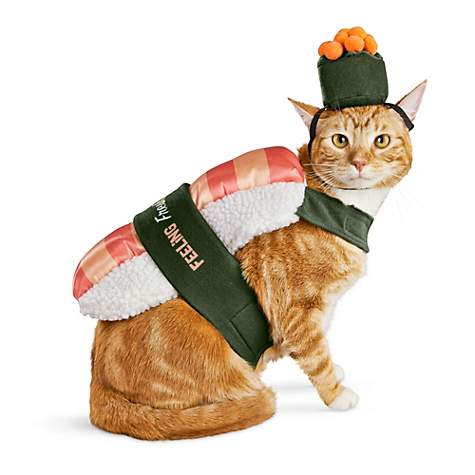 Pirate
Another classic…for pets and humans alike! Let's face it, your cat is already plotting a mutiny in your house, now they can dress the part!
Lion
Okay, so dogs make cute lions, but cats may take the cake on this one. Considering lions are a distant relative, I guess you could say they have an unfair advantage. Regardless, there's nothing more adorable than having your own mini Simba stalking around the house!
For Small Dogs or Cats
---
Stuffed Animal Toy
Calling all DIY-ers! Did you know you could make an adorable costume for your pet out of a toy teddy bear? It takes less than 10 minutes, and is so stinkin' adorable! If you can find a stuffed animal that's big enough, you could probably make this one work for larger dogs, too!
PUP-kin or Pump-CAT Spice Latte
This is a great one to DIY, too. However, you're going to need some patience from your pet to pull it off. All you need is a small white trash bin to decorate as a coffee cup (Starbucks designs are a popular choice), and for your pet to be willing to sit inside of it. Tan, orange, and red-haired pets work especially well for this costume, especially you're imitating a Pumpkin flavored drink!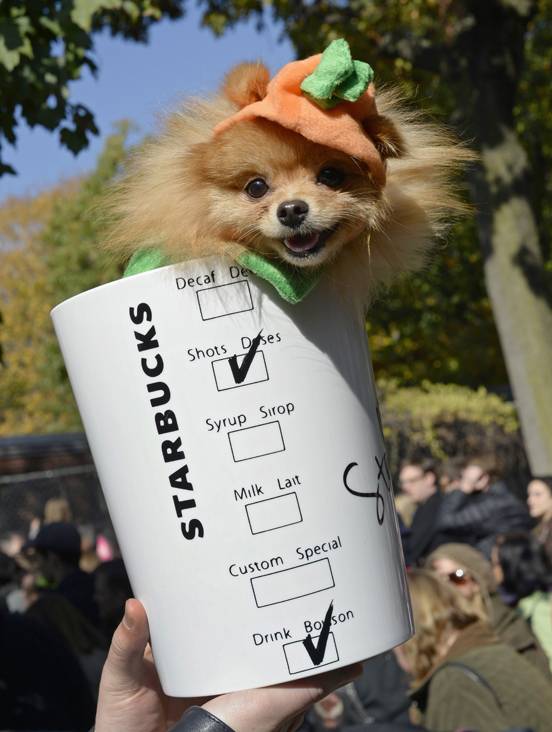 For Recovering Rascals
---
Pup-tini or Cat-tini
Is your furry companion unlucky enough to need the dreaded cone collar this Halloween? Make the most of it, and turn it into a costume. Just make some olives and a toothpick out of cardboard, paper, or felt and attach to the inside of the cone. BOOM! Instant costume!
Small Animal Costumes
---
Mermaid
Who says small pets can't dress up too? One of our favorite looks for the larger of the small animals this year is a mermaid! Show off your small pet's imaginative side, and turn them into an entrancing mythical creature! PetSmart has a whole line of teensy costumes made specially for guinea pigs and rabbits, and they're all ridiculously adorable.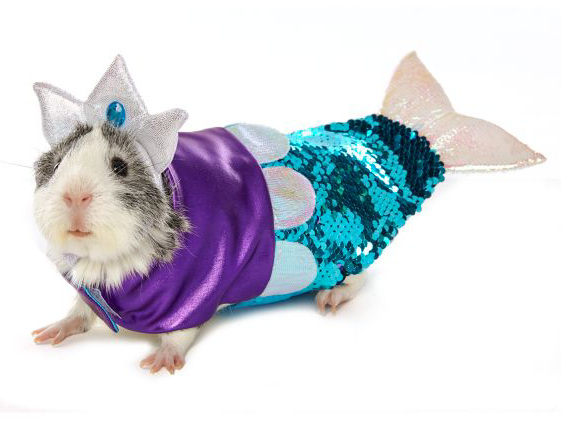 Pizza
Remember the internet sensation, Pizza Rat? Well your rodent could imitate the coolest of the rats with their very own Pizza Rat costume! You could DIY it, or check out this awesome Etsy shop for handmade costumes for small pets!
For All Pets
---
Beanie Baby
Your pet has almost all the makings of this costume by just being itself! The only thing they'll need is a heart-shaped tag with the trademark "ty" on it!
Pumpkin
A tried-and-true style for all, regardless of size, species, or age! You can find pumpkin costumes for all kinds of pets, from your smallest rodent friends to your largest doggos.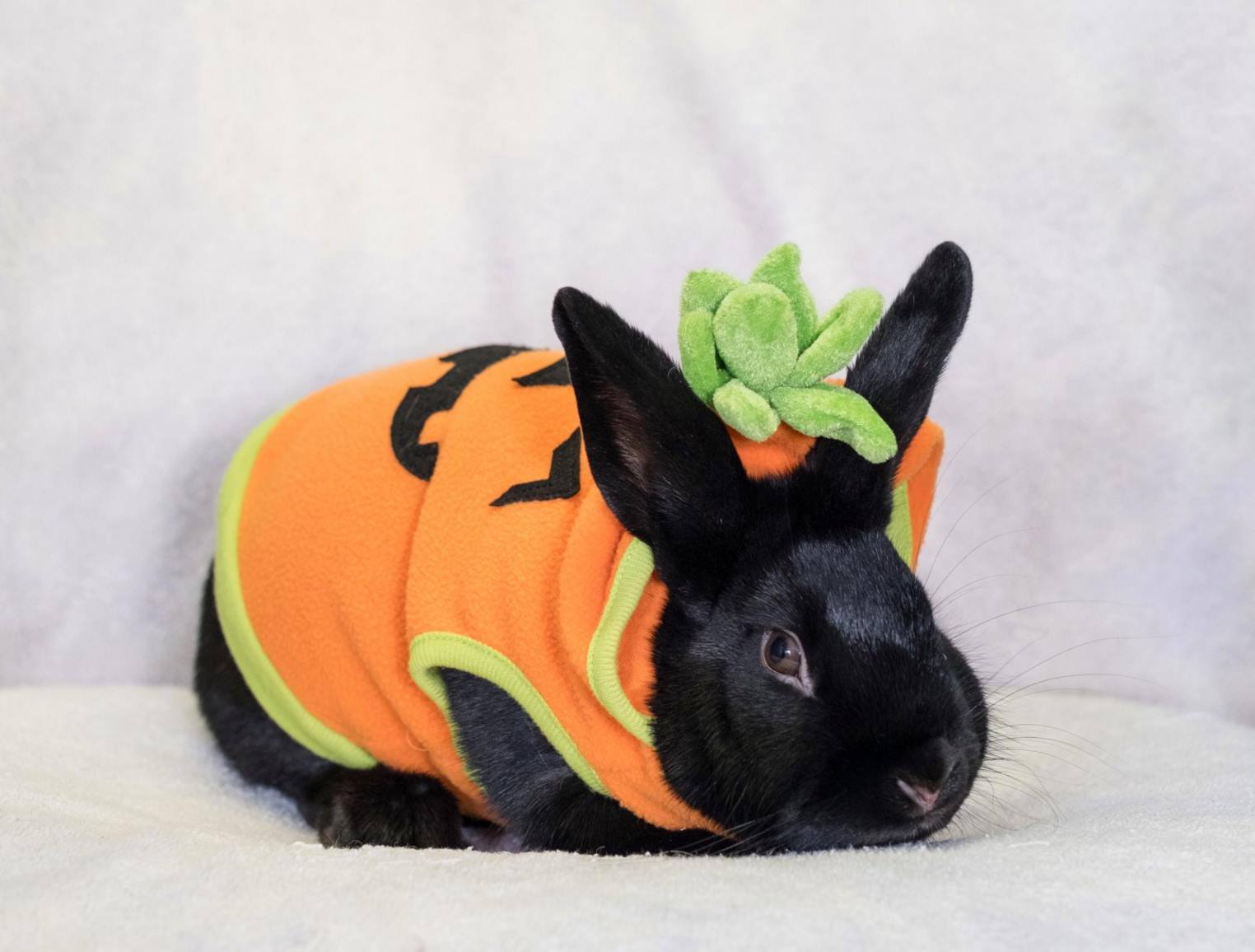 ---
Dressing up for Halloween is loads of fun, and there's no reason to not include your pets in the costumed activities! No matter which costume you choose for your furry friends, keep in mind that a costume should be one thing, above all else: SAFE. Make sure to watch your pets closely when wearing costumes, as some outfits can become dangerous if pets try to eat them. Always ensure that a costume fits your pet, and to remove it if they show any signs of discomfort. Otherwise, snap some photos and show off your pet's Halloween spirit!
Once you find the right costume, be sure to join us at the Mutt-ster Mash at Smuttynose on Saturday, November 3rd! There will be all kinds of Halloween fun geared towards four-legged companions, like bobbing for apples, a haunted agility course, and, of course, a costume contest! For more info, check out the event on our Facebook page!