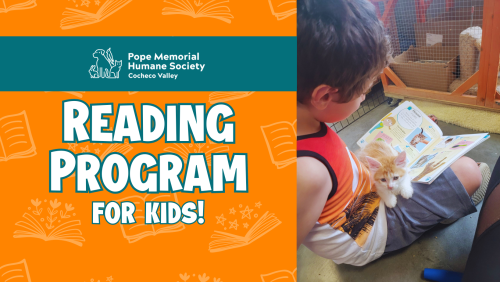 *The Reading Program will not be held in December 2023-see ya next year!*
Children ages 6 to 13 years are welcome to participate in PMHS-CV's Reading program every Sunday and read to cats and small animals.If you are interested in participating in our Reading Program as a reader or as a volunteer, please contact Krista Morrissette at [email protected].
Reading to shelter animals has many benefits for both the animal and the reader. Because animals don't judge a child's reading level, a child is likely to feel less hesitant to read out loud. This provides an environment for readers to gain confidence and improve their literacy skills. The animals also benefit from story time. A shelter is a stressful place for animals; reading time provides a calm, low-stress socialization opportunity. Scared and skittish animals have an opportunity to develop social skills and learn that humans are kind. Friendly animals get to have extra social time and are able to take a break from the shelter's stressful environment. All reading sessions are chaperoned by adult staff members and volunteers. The adults provide reading support to the children and make sure safety protocols are being followed.