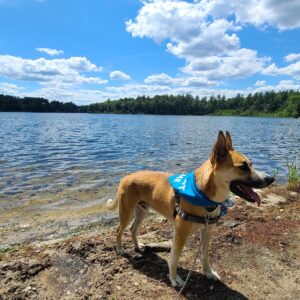 Make a Dog's Day with a Field Trip!
Recent studies have proven that shelter dogs benefit from extended time away from the shelter in the form of field trips and sleepovers. Not only do these experiences help to minimize stress for the dogs, but they help volunteers and staff learn more about each dog.
Approved caregivers may schedule time to bring a PMHS dog off-site for an agreed upon amount of time ranging from one hour to an entire weekend. To get involved in this program, simply complete the foster care application and indicate your interest in field trips or contact our Assistant Shelter Manager & Foster Care Coordinator, Caryn Fugatt at [email protected]. 
Field Trip Basics
Approved volunteers who have attended Field Trip and Dog Walking 101 orientations may take an available dog off PMHS-CV premises for a field trip. The dog should not have contact with other animals or physical interactions with the general public (unless otherwise specified by PMHS-CV staff). Field trips may include trail hikes, on-leash walks, car rides, relaxed downtime, or other activities approved by PMHS-CV management. The length of a field trip can vary from as little as 1 hour to as long as a full day (9:00 am – 3:30 pm). All supplies (food, harness, leash, toys, etc.) are provided for each field trip. We also ask that volunteers fill out a "Report Card" after their trip to provide more information on the pup outside the shelter.
Benefits of Field Trips
Field trips have been recognized as a great way to find new foster caregivers, engage with the community, reduce kennel stress and get better information on a dog's behavior. Field trips are helpful in marketing dogs for adoption, as potential adopters want to know what a dog looks and acts like outside of their kennel.
Cited in the webinar Behavioral and Physiological Effects of Field Trips, Sleepovers, and Week-Long Fostering, studies show that shelter dogs get significantly less (an average of 15% less) restful sleep than owned dogs. Therefore, time spent away from the shelter partaking in restful activities like napping are physiologically beneficial.
A 2018 study of the field trip program at Louisville Metro Animal Services (LMAS) found that dogs on field trips were happier, more relaxed, more playful and calmer than dogs in the shelter. Dogs on field trips showed less nervousness, anxiousness, insecurity, barking, shaking/trembling and repetitive behaviors such as jumping. With 350 field trips occurring during the study and 70+ dogs finding homes as a direct result of their field trips, 20% of field trips led directly to a dog's adoption.(https://www.maddiesfund.org/assets/foster-care/field-trip-pilot-program-toolkit.pdf)
PMHS-CV Field Trip History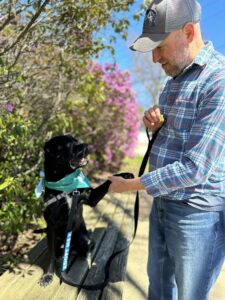 Senior volunteers, staff, and trainers have always been able to bring dogs for field trips (car rides, swimming, hiking, etc.) but there was not an established PMHS-CV Field Trip program until Spring 2021. Since the implementation of the program, the frequency of field trips has grown, and we have tracked over 775 field trips to date (June 16, 2023).
Case Study: Meadow!
At ten-months-old, Meadow was surrendered due to conflicts between her and the other dog in the home. She displayed increased anxiety in the shelter environment. She was very reactive to seeing other dogs, and had a hard time settling in her kennel, often jumping repetitively to the point of hitting her head on the ceiling and causing injury. When volunteers began bringing Meadow for field trips to their homes, we soon learned that Meadow was a different, less anxious, more relaxed dog in a home. Photos, videos, and a collaborative biography provided by Meadow's field trip volunteers ultimately resulted in Meadow finding her new family after four months in shelter care.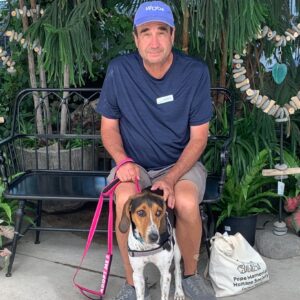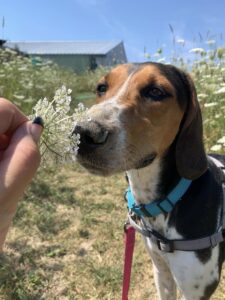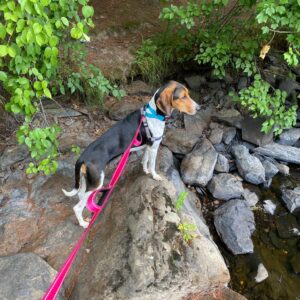 If you would like to learn more or sign up for a Field Trip with one of our furry residents, please reach out to our Assistant Shelter Manager & Foster Care Coordinator, Caryn Fugatt at

[email protected]

.