Foster care volunteers provide temporary care for kittens, puppies, cats, and dogs in their homes. Some animals only need a home for a matter of weeks, while others may need to be fostered for several months. By offering your time, energy, and home to an animal in need, you prepare the animal for adoption into a permanent, loving home. PMHS is always looking for foster homes, especially throughout the busy spring and summer seasons. The more foster homes we have, the more lives we will be able to save.
How Foster Care Generally Works:
PMHS receives an animal that is not yet ready to be put up for adoption.
Pre-qualified foster homes are contacted. If you are called to foster an animal and cannot do it for any reason, we will find another foster home and call you the next time. It's always okay to say you are not available.
The animal goes to the foster home until ready for adoption. You may need to bring the animal back to the shelter to be checked periodically by PMHS medical staff or to receive any necessary vaccines or treatments.
The animal is returned to PMHS for adoption. Animals coming out of foster care are spayed/neutered, unless already done so, and then placed up for adoption right away.
PMHS provides food, veterinary care and medicine for foster animals and lots of support to foster care volunteers. Foster care volunteers provide time, shelter, and lots of love.
How to become a Foster Care Volunteer:
Fill out a Foster Application, and make sure to complete the foster care fields thoroughly.
Your application will be reviewed. All cats, dogs, and/or ferrets in the home must be up to date on a rabies vaccine. PMHS may contact your veterinarian to verify this information.
Once the application has been reviewed, you will be contacted. Please note, PMHS may not have animals available to place in foster care immediately.  We will keep your information on file and contact you as future opportunities arise.
If approved, a home-check will need to be scheduled and completed by a PMHS agent (due to COVID-19, this may occur virtually).
Short-Term Foster Care:
Recent studies have proven that shelter dogs benefit from extended time away from the shelter in the form of field trips and sleepovers. Not only do these experiences help to minimize stress for the dogs, but they help volunteers and staff learn more about each dog.
Approved foster caregivers may schedule time to bring a PMHS dog off-site for an agreed upon amount of time ranging from one hour to an entire weekend. To get involved in this program, simply complete the foster care application and indicate your interest in field trips!
If you have any questions or would like more information on the program, please contact Caryn Fugatt at [email protected]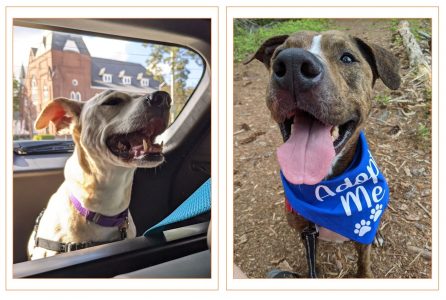 Foster Care FAQs
Where do the foster animals come from?
PMHS provides a safe haven for animals coming from a variety of situations.  Animals in need of foster care may have arrived at PMHS as a transport from one of our rescue partners, as a surrender from a prior owner, as a stray, or as a returned adoption.
What do foster families need to provide?
Foster families need to provide:
A healthy and safe environment for their foster animal(s)
Transportation to and from PMHS as needed
Socialization and cuddle time to help teach the foster animal positive family and pet relationships
Lots of exercise (as allowed) and positive stimulation to help them develop into great pets
How much time do I need to spend with a foster animal?
As much time as you can! With that said, the amount of time will vary depending on the energy level and needs of the foster animal. Dogs and cats can differ. It is ideal to spend around two hours a day exercising and playing with your foster animal to ensure that he or she receives adequate socialization and stimulation.
Can I foster animals even if I have a full-time job?
Yes. The foster application is designed as a survey to help the foster coordinator match you with the best animal for your needs and your current schedule. If you have a full-time job, the foster coordinator will match you with a foster animal who may be okay left alone during the workday.
Can I foster a dog if I don't have a fenced yard?
Yes. Even if you do have a fenced yard, we request that you supervise all outdoor activities with the foster dog. And we ask that you always keep him or her on a leash when you're on walks.
How long will the animal need to be in foster care?
This can vary for each foster animal and the foster animal, depending on the animal's medical conditions, health status, and readiness for adoption. We ask that when filling out a foster care application you provide us with any time restrictions you may have.
Will I need to give medicine to my foster animal?
Some foster animals are in our foster program due to medical conditions; they may have current prescribed medications they need to take daily.
Some of the animals that we have in our foster program may have been exposed to shelter illnesses. While we do our best to ensure that we are aware of all the conditions that a foster animal may have prior to going home, many illnesses have incubation periods, meaning symptoms can arise after you take a foster pet home. So while some foster animals do not require any medicine, others may. If your foster animal needs medications, our staff will show you how to administer them before you take the animal home. Some foster animals are in our foster program due to medical issues or conditions – They may have current prescribed medications they need to take daily.
Can I let my foster animal play with my personal pets?
There are a few guidelines that we ask foster families to adhere to regarding their personal pets. This can vary for every foster animal. While foster animals playing with other pets is often fine, we advise that you consult with your veterinarian before fostering to ensure that all of your personal pets are healthy and up-to-date on all vaccines. Animals in shelters are very susceptible to illness and can carry or catch different diseases. If, for any reason, your personal pet becomes ill while you are fostering a PMHS pet, we cannot provide medical care for your personal pet. 
Who will take care of my foster animal if I need to go out of town?
If you have travel plans while you are fostering PMHS, you will need to contact the foster coordinator as soon as you know the dates. Please provide at least one week's notice to ensure that we can accommodate. You cannot leave your foster pet with an unauthorized person or pet sitter. This would need prior approval by PMHS. 
What if my foster animal is not working out?
You are not required to continue to foster an animal if you feel it's not working out. We will work on moving your foster animal out as soon as possible, but ask for your understanding and patience. Please reach out to the foster coordinator if this situation arises.