We're counting down the days to June 6-June 7 and NH Gives! If you haven't heard of it before, NH Gives is an initiative of the NH Center for Nonprofits. It's a powerful, statewide 24-hour online fundraising event that is designed to build community, connect donors to local nonprofits, and create excitement around the nonprofit sector. We need your help to reach our campaign goal of $10,000 and 50 donors, and we've included a few easy ways that you can support us.
Share and share alike. Online days of giving are successful because of our networks. Help us grow our network by sending this email to your network and ask your friends to do the same.
Be socially (media) active. Use your social media networks: post about NH Gives (even if CVHS isn't the non-profit you choose to support on that day) and share your love for your particular passion, whether it's education, health care, animals, or the arts. Ask others to do the same. If you ARE planning to support CVHS during NH Gives, print and complete this sign and post a picture of yourself (or your pet!) holding it to share your reasons for supporting us with others.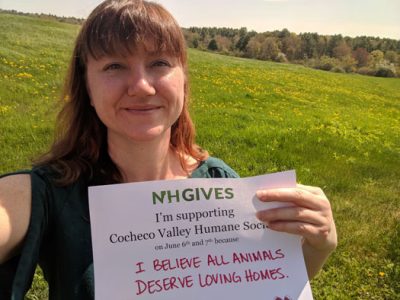 Become a fundraising champion. Everyone loves a champion, including us! Sign up to be a peer-to-peer fundraiser and you can help us meet our goal even faster by fundraising within your own network! Contact us for more information on how to become a fundraising champion!
If you have any questions or would like more information, contact Melanie Burger at [email protected].
Thank you in advance for your support!