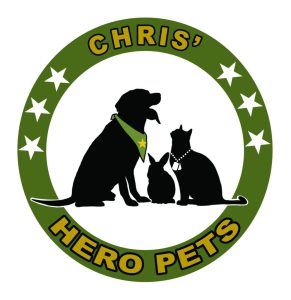 Pope Memorial Humane Society is proud to work with Chris' Hero Pets, a program of Hero Pups, to help unite veterans with companion animals!
What is Chris' Hero Pets?
By partnering with a network of shelters, Chris' Hero Pets will take some of the financial burden off of veterans seeking a companion by paying their adoption fees. Chris' Hero Pets offers a resource to more veterans who may not be looking for a support dog, but still feel they could benefit from having a companion by their side. This program is available to all local veterans through our partner shelters.*
Support for Chris' Hero Pets comes from businesses and individuals that believe a pet can help bring comfort and companionship to our local veterans. 
Chris' Hero Pets will sponsor part or all of the adoption cost of an animal at Pope Memorial Humane Society for veterans and active military members.
I'm a veteran – how do I qualify for the program?
To qualify for Chris' Hero Pets, please bring your military ID, DD-214, or DD-256 with you to the shelter when you come to adopt. Adopters must meet Pope Memorial Humane Society's requirements in order to adopt. Although Chris' Hero Pets are generously sponsoring part or all of the adoption fee, adopters must be able to provide food and vet care for their pet.
How can I donate to this program?
You can learn more about the program or make a donation on the Hero Pups website.